Bill C. Merrell, Ph.D.- National Designation Committee
Care of: Merrell Institute, 1461-16 Lakeland Ave., Bohemia, NY 11716 631-563-7720 Fax: 631-563-7719
6 SEPARATE, YET AFFILIATED ORGANIZATIONS. MEMBERSHIP IS A GREAT WAY TO INCREASE NETWORKING, INCREASE YOUR QUALIFICATIONS AND SHOW THE PUBLIC, YOU ARE A QUALIFIED PROFESSIONAL. TO LEARN HOW TO QUALIFY FOR A NATIONAL ACCREDITED DESIGNATION, SEND YOUR RESUME AND APPLICATION TO THE EDUCATION DIRECTOR, BILL C. MERRELL, Ph.D.
-
ENVIRONMENTAL ASSESSMENT ASSOCIATION
CEI – Certified Environmental Inspector
The CEI performs Basic Environmental Inspections on residential and/or commercial properties. This includes the visual inspection of the property and possibly researching available environmental data to present a comprehensive report to the client. The CEI will understand a broad range of environmental issues at a basic level and have at least 1 to 3+ years related work experience.
CEM – Certified Environmental Manager
The CEM has supervised at least one or more people in the Environmental industry for at least 3 to 5 years with decision making authority. The CEM has a broad range of knowledge involving more complex environmental issues.
CES – Certified Environmental Specialist
The CES is an experienced Environmental Professional who can provide a wide range of environmental services. This may include environmental testing and the abatement and/or removal of hazardous material.
CEC – Certified Environmental Consultant
The CEC designation may be selected for those Environmental Professionals who have a broad range of knowledge and work experience involving a variety of environmental issues. The CEC is likely to be involved in reviewing work from the field, creating and producing written reports, consulting with clients, co-workers and management level decision makers.
CMI – Certified Mold Inspector
The CMI designation is for those who are certified in hands-on mold inspection procedures usually for residential and/or commercial properties. The CMI should operate in compliance and adhere to all City & State requirements and regulations.
CMS – Certified Mold Specialist
The CMS is an Environmental Professional who specializes in a wide range of mold contamination issues including, but not limited to, assessment, analysis and microbiology.
CTS – Certified Testing Specialist
The CTS designation is for Environmental Professionals who are in the field testing for environmental hazards, work with field samples, coordinate with laboratories and testing plants, then analyze written test results/reports.
CRS – Certified Remediation Specialist
The CRS is an Environmental Professional who provides a variety of services including, but not limited to: Phase I, Phase II, and Phase III. Remediation Services may include hazardous material handling, abatement and removal.
CAQS – Certified Air Quality Specialist
The CAQS designation is reserved for Members who conduct hands-on air quality testing. This may include, mold, radon, gases and other possible contamination issues. These professionals usually work with an independent laboratory to have the samples analyzed and assessed in a written report for their clients.
Affiliate
-
ASSOCIATION OF CONSTRUCTION INSPECTORS
CCI Certified Construction Inspector
When a loan is approved for a construction project, typically the funds are allocated and the contractor is paid in segments of "draws" according to a construction schedule. Before each draw can be released a Construction Inspector must verify that the percentage of construction completed agrees with the draw schedule.
CCPM Certified Construction Project Manager
Taking the Inspection duties one step further is the actual management of the construction project. The responsibilities are to ensure that the project is complete: approve and make draw payments (contractor and subcontractors), verify that construction meets architectural plans, monitor and ensure completed construction is on schedule and report to the client (lender, developer or similar party).
CCC Certified Construction Consultant
With many financial institutions, corporations, & the Government Agencies now realizing the need for a Construction Consultant, the Certified Construction Consultant designation recognizes those construction professionals with broad areas of construction expertise.
Affiliate Member
-
-
NATIONAL ASSOCIATION OF REAL ESTATE APPRAISERS
CREA- State Certified Residential Appraiser
Minimum 3 years appraisal experience as referenced by their resume
CCRA-State Certified General Appraiser
Minimum 5 years appraisal experience as referenced by their resume
RTA-Registered Trainee Appraisers
Minimum 1+ years appraisal experience as referenced by their resume
RPM- Registered Professional Member
Affiliate to the appraisal experience as referenced by their resume
Affiliate Member
-
HOUSING INSPECTION FOUNDATION
RHI - Registered Home Inspector
The Housing Inspection Foundation awards this designation to recent graduates through our recognized educational institutions. Once a graduate receives his or her certificate of completion to become a Home Inspector, the RHI designation is added to their name and contact information is listed in our online database so that prospective clients can confirm their expertise.
CHI - Certified Home Inspector
A Certified Home Inspector must possess the formal education, three or more years or work experience and the necessary State or Regional requirements to perform home inspections. Clients hiring CHI's can rest assured that the inspection will be thorough and performed by a knowledgeable and highly capable professional.
CHC - Certified Housing Consultant
This designation is reserved for those professionals able to advise clients on all matters pertaining to home inspections. They may also manage the repair or restoration of any issues found during the property inspection.
CEHI – Certified Environmental Home Inspector
This certification is a hybrid state-of-the-art distinction and is reserved for those professionals who possess the traditional residential home inspection experience and are qualified to perform energy audits, inspections and indoor air quality testing and reporting. These CEHI's provide many inspections that are important to all the stakeholders in a residential or commercial structure.
Affiliate Member
-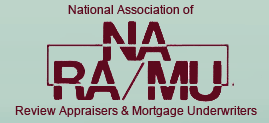 NATIONAL ASSOCIATION OF REVIEW APPRAISERS & MORTGAGE UNDERWRITERS
CRA - Certified Review Appraiser
State Certified Residential Appraiser adhering to USPAP.-3 years minimum experience as stated in resume
RMU - Registered Mortgage Underwriter
Designees must be currently active in the mortgage Underwriting Area. 2 years minimum
Affiliate Member
-
INTERNATIONAL REAL ESTATE INSTITUTE
RPM - Registered Property Manager
This designation applies to real estate professionals whose primary area of expertise involves property management.
SCV - Senior Certified Valuer
This designation applies to real estate professionals involved with finance, development and investment.
RIM - Registered International Member
A primary objective of IREI is to provide a global network of reliable contacts for its members. As an RIM, your contact information will go into our international database - enabling you to contact other professionals while allowing potential customers to contact you.
Affiliate Member
-
Download the application herein and attach a detailed resume as well as any and all licenses you have from your home state. Send it to:
BILL C. MERRELL, Ph.D.- National Education Director
National Designation Review Committee
(Indicate the Association and Designation Applying for)
1461-16 Lakeland Avenue, Bohemia, NY 11716
631-563-7720 ~ Fax: 631-563-7720
-
REMEMBER TO ATTACH COPIES OF ANY LICENSES, INSURANCE, AND A DETAILED RESUME- MAIL TO National Designation Review Committee
NAREA- NATIONAL ASSOCIATION OF REAL ESTATE APPRAISERS
http://www.narea-assoc.org/documents/NAREA_New_Application.pdf
NARAMU- NATIONAL ASSOCIATION OF REVIEW APPRAISERS AND MORTGAGE UNDERWRITERS
ACI- ASSOCIATION OF CONSTRUCTION INSPECTORS
http://www.aci-assoc.org/documents/ACI_Membership_Application_FORM.pdf
IREI- INTERNATIONAL REAL ESTATE INSTITUTE
http://www.irei-assoc.org/documents/IREI_Membership_Application_Live.pdf
HIF- HOUSING INSPECTION FOUNDATION
EAA- ENVIRONMENTAL ASSESSMENT ASSOCIATION
http://eaa-assoc.org/documents/EAA_Membership_Application.pdf